In the past 130 years of motoring, car design has continued to evolve. Early cars were essentially powered wagons that didn't even have steering wheels and were steered using a tiller.
Cars have continued to change as auto manufacturers look for that rare design element that will help their vehicle stand out from the crowd. That, and the thought that consumers might have a need for a certain type of vehicle at times has led to some unusual designs over the years.
Let's look at a few of the strangest.
1. Vanguard-Sebring CitiCar
Electric powered cars are not new. In fact, they have popped up throughout motoring history.
With the oil crisis dominating the mid-1970s, Vanguard-Sebring decided that a small city car with electric power was exactly what the American public needed. And so their aptly named CitiCar was born.
First seen in 1974, the CitiCar had a wedge design which made it unique. It was also very small and only capable of taking two passengers. The CitiCar had a top speed of 38 mph and a range of 40 miles. 4,444 units were produced!
2. Cadillac Cyclone
While it never made it into production, the Cadillac Cyclone was anything but a typical looking car. In fact, it looked a little like a rocket, which is understandable as it was designed in 1959, the beginning of the space race.
The Cyclone included a radar collision avoidance system as well as a unique bubble canopy that could be stored safely in the trunk, turning the Cyclone into a convertible.
Powered by a 390 cubic inch engine and also featuring all-wheel independent suspension, this car was certainly atypical and way ahead of its time.
3. Peel P50
A car that you could fit in an elevator. Yes, that's just how small the Peel P50 was. This three-wheel microcar went into production in 1962 and was a single-seater, capable of reaching a top speed of 38 mph.
One of the smallest production cars ever made, it didn't even need a reverse gear. Instead, the driver exited the vehicle and simply pulled the car by a handle, pointing it in the direction they wanted to drive!
50 were made and in 2016, one sold at auction for $176,000!
4. Ferrari 512 S Modulo
One of the most unusual Italian sports cars ever produced, the 512S Modulo was a concept car from Ferrari, with input from the legendary design house, Pininfarina. A 1-door coupe, Ferrari showed the Modulo at the 1970s Geneva Motor Show.
Although it never went into production, it has some serious performance numbers. Powered by a Ferrari V12 engine, it could reach 0-60 mph in just 3 seconds and had a top speed of 220 mph!
Its wedge-shaped design and covered wheels certainly make this the most unique Ferrari ever made.
5. Buick Centurion
While the Centurion name was a Buick brand introduced in the 1970s, it was actually first used on a concept car in the 1950s.
And it was way different to anything else around at the time. It featured a huge bubble canopy, was constructed of fiberglass and looked more like an aircraft on the inside than a motor car.
It also featured something only found on a few luxury cars today, a camera to help the driver when backing up.
6. Amphicar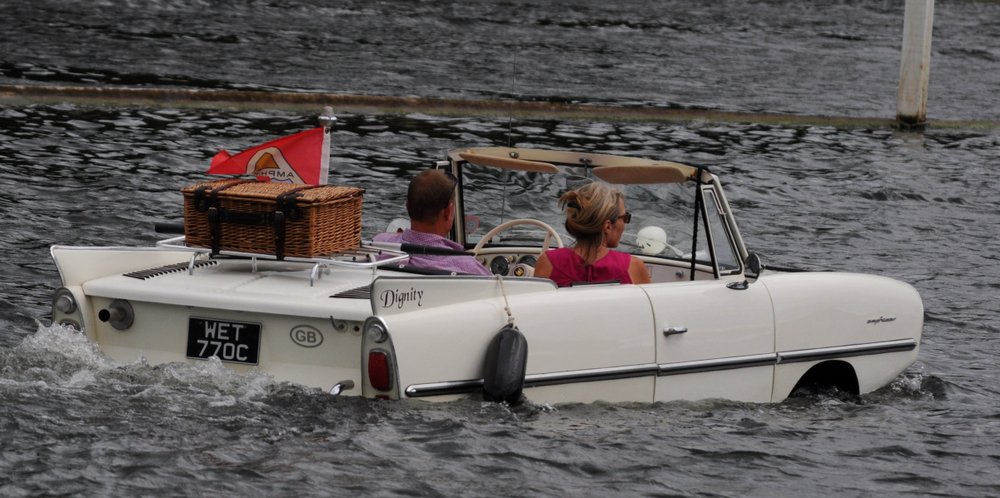 Why have a car that just travels on roads? The Amphicar could navigate water as well. And this wasn't just a once-off. The Amphicar actually went into production in Europe.
A product of Germany, the Amphicar was designed by Hans Trippel and introduced in 1961. It remained in production until 1965 but Amphicars were sold off showroom floors up until 1968. Powered by a straight-4 engine, after any entry into water, the Amphicar had to be regreased in 14 sections throughout the vehicle.
Around 3,800 were made.
7. Hennessey VelociRaptor 6×6
Based on the Ford F-150 Raptor, the Hennessey VelociRaptor certainly fits the bill as something a little unusual. And that's thanks to the fact that it's not a 4×4 like the Raptor, but a 6×6!
Not only does this monstrous vehicle look awesome, it performs off-road as well. But that's to be expected, right?
The VelociRaptor will set you back a cool $349,000 and includes a 5.0-liter V8 twin-turbo engine which belts out 602 brake horsepower.
8. Messerschmitt KR200
Microcars were all the rage in Europe during the 1950s and 60s. Of course, BMW's Isetta was one of the favorites but another German brand also proved to be popular. And that was the KR 200 from Messerschmitt. Following World War II, Messerschmitt moved into car production with the KR 200 marketed from 1955 to 1964. In that time around 40,000 were produced.
And what powered this unusual looking car? Well, it was just a 191cc two-stroke motor but it could propel the KR 200 to around 60 mph. Messerschmitt produced three models of the KR 200 – a roadster, coupe and convertible.
9. Bugatti Type 57SC
Certainly unusual but incredibly beautiful as well, this is the Type 57SC from Bugatti. While modern Bugatti models like the Veyron are noted for their incredible performance, we love the Type 57SC for those incredible lines, although it certainly was no slouch in the speed stakes.
The 1930s produced some interesting looking cars but none can match the Type 57SC. Even today, it remains one of the most unusually beautiful cars ever made.
Just 710 were ever made and in 2016 one sold for $9.7 million at auction.
10. Chrysler Turbine
Perhaps the most unusual car on our list, the Chrysler Turbine first made its appearance in 1963. And it looked very similar to most of the cars available at the time.
There was, however, one small difference. It was powered by a gas turbine!
A two-door coupe, the Turbine's engine used around 80% fewer pieces than a regular gasoline engine and could run on four different fuel types, including jet fuel. It produced 130 brake horsepower and ran at 60,000 rpm at 120 mph!
Interestingly around 50 cars were produced and given to members of the public to drive as part of a test program. The car never officially went into production.
11. Mercedes Benz Popemobile
Without a doubt the most unusual Mercedes Benz ever produced, the 'Popemobile' was a custom-built vehicle made for Pope John Paul II's visit to Germany in the early 1980s.
Interestingly, Mercedes wasn't the only automaker to modify a car for a papal visit. Others include SEAT for the Pope's visit to Spain and Jeep for his trip to Ecuador, amongst others.
The Mercedes Benz 'Popemobile' was a modified G Wagon.
12. BMW Isetta
The most famous microcar of them all, this is the BWM Isetta, often called the 'Bubble Car'. Powered by a 300cc engine, the Isetta was actually an Italian design built by Iso which BWM produced under license.
The Isetta had one entry point and that was through the front of the vehicle which also acted as a hinged door. As it opened, the steering wheel would fold down, allowing access to the seat. Even though it had a small engine, the lightweight Isetta could reach up to 53 mph.
Over a seven-year period from the mid-1950s to the early 1960s, over 160,000 were made.
13. Lamborghini LM002
We all know that Lamborghini makes some of the wildest sports cars available. Think of the Countach, Diablo and Murcielago. But did you know that between 1986 and 1993 they produced the LM002, an unreal SUV!
Let's be honest, it's not the prettiest vehicle the world has ever seen. Available as a pickup and sports utility vehicle, the LM002 was powered by either a 5.2 or 7.2-liter V12 engine. Interestingly, the 7.2-liter engine, made by Lamborghini, was actually a maritime engine used on powerboats.
Just 328 'Rambo Lambos' as they were called, were produced.
14. Stout Scarab
Unusual name and unusual looks, the Stout Scarab was a vehicle from the 1930s and technically was the world's first minivan.
The vehicle was the brainchild of William B. Stout, a man of many talents. Not only was he an automotive designer but he also worked in aviation and was a journalist as well! Inside the Scarab which was a combination of leather, wood and chrome, there was even a fold-out card table for passengers to pass the time on a long drive.
The first Scarab was produced in 1932 and most of the body was made from aluminum but eventually, that proved too pricey and steel replaced it. At $5,000, the Scarab was expensive and built by invitation only. It is thought that only nine were ever made.
15. GM LeSabre
The LeSabre was a concept car shown by General Motors in 1951. It introduced many of the design elements that would be seen in cars later in the decade such as wraparound windscreens and large, extremely pointy tailfins.
The LeSabre was powered by a 3.5-liter V8 engine that could run on either gasoline or methanol. It also featured many cutting edge pieces of technology such as hidden headlights, a 12V electrical system and even electrical jacks to help lift the vehicle for tire changes.
Certainly the LeSabre is an unusual car that was well ahead of its time.
16. Citroen C4 Cactus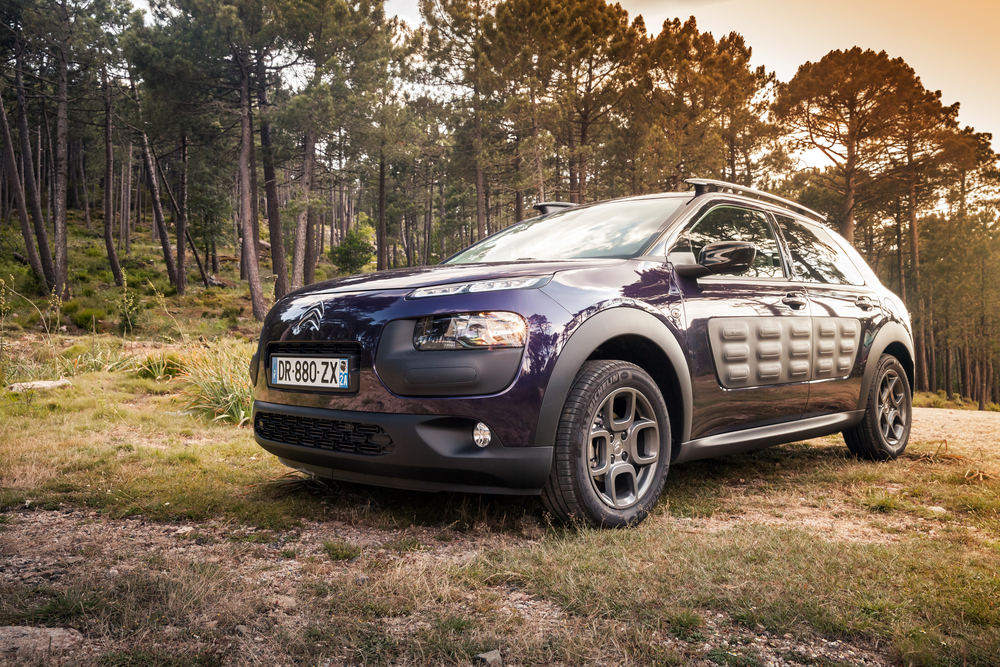 While the Citroen C4 Cactus doesn't look that unusual, it has a number of very different features.
If you hate dings on your car from people opening their door into it at a parking lot, the C4 fixes that problem. How? Well, with custom airbags on the outside of the doors. Called 'air bump' panels, these help to protect the doors on the vehicle. Although they do look a little strange, it must be said.
The C4 Cactus was produced by Citroen between 2013 and 2017. It seems that the 'air bumps' didn't really take off.
17. Dodge Deora
This unusual pickup truck was actually a Dodge A100 that was customized by Mike and Larry Alexander, two famous car builders. Introduced in 1965, the Deora was noted for its length, particularly the pickup bed.
The Deora was powered by a 2.8-liter slant-six engine and became one of the first cars ever released by the Hot Wheels toy brand. In 2009, the Deora was sold at auction for over $300,000.
18. Volkswagen Thing
The Volkswagen 181, also known as 'The Thing' was a four-door, open-top vehicle designed for military use but also sold commercially.
It was marketed by Volkswagen between 1968 and 1983, although civilian models were only available from 1971 onwards. While more than half of the 90,000 were sold to military forces, the Thing became popular in both the United States and Europe.
It was also produced in other parts of the world and called the Trekker in the United Kingdom and the Safari in Mexico.
19. L'Oeuf Electrique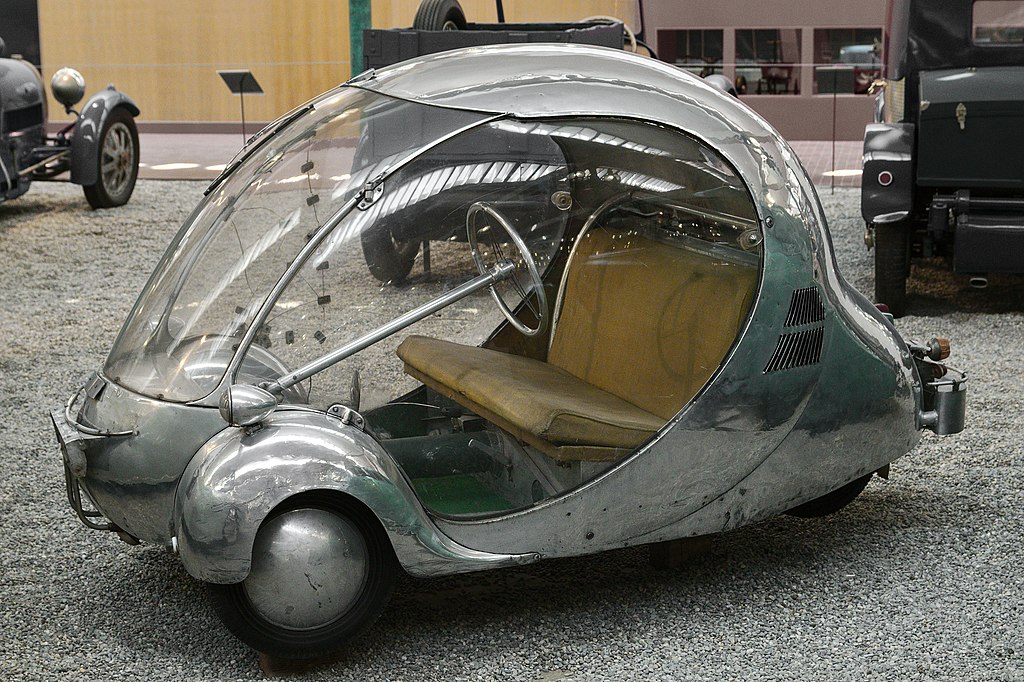 Designed by Paul Arzens, the L'Oeuf Electrique was certainly a unique looking car. Only one was ever made. And the name? Well, it means the electric egg.
Arzens built this vehicle in 1942 and used it as his own personal transport. It could reach speeds of up to 37 mph and had a range of 60 miles. This is perhaps the most unusual car ever made.
20. Chrysler Airflow
One of the first-ever cars to have a body designed with aerodynamics in mind, Chrysler introduced the Airflow in 1934 and it remained in production until 1937. While it wasn't a huge success, it showed that car manufacturers were starting to think about streamlining their designs to be more aerodynamically effective.
The Airflow was noted for its long, flowing bonnet with a natural curve from the ground running upwards towards the windshield. Available as a 4-door sedan or 2-door coupe, the Airflow was powered by either a 4.9-liter or 5.3-liter inline 8-cylinder engine.
The Airflow's design was said to have impressed Ferdinand Porsche and he is rumored to have imported one to Germany. But it wasn't just Chrysler's name under which the Airflow was marketed. It was also a vehicle in DeSoto's model lineup.